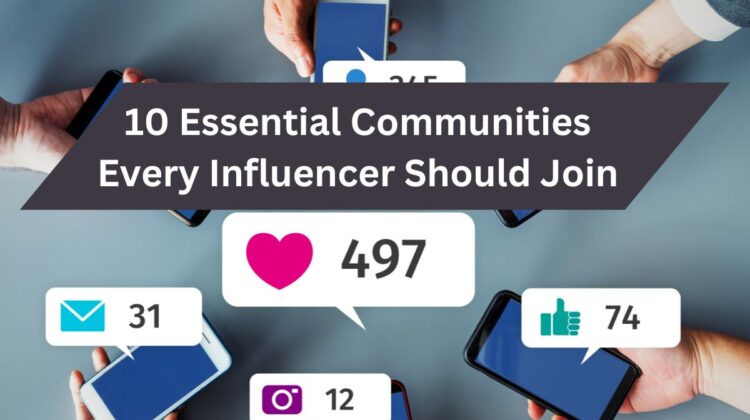 In the dynamic world of social media and online content creation, influencers thrive by connecting with their audiences and fellow creators. Building a strong presence within communities that resonate with your niche can greatly amplify your influence. Here are ten communities where every influencer should consider becoming a part of:
Influencer Rate: This website is committed to support community of Artists and Companies across various popular interest areas. Regardless of niche, there's a group of enthusiastic consumers waiting to connect you. Visit: Influencer Rate
Reddit Subreddits: Reddit is a treasure trove of niche-specific subreddits. Participate in discussions, share your expertise, and gain valuable insights from community members. Visit: reddit
Quora: Show your expertise by answering questions on Quora related to your niche. This platform allows you to position yourself as an authority and connect with an audience actively seeking knowledge. Visit: quora
Discord Servers: Discord offers a more interactive community experience. Join servers focused on your niche to chat, share content, and engage in real-time conversations.
LinkedIn Groups: Just like Facebook groups, LinkedIn hosts industry-specific groups where professionals and influencers gather to discuss trends, share insights, and connect.
Niche-specific Forums: Search for online forums dedicated to your area of expertise. These forums are excellent platforms for in-depth discussions and networking within your niche.
Meetup: If you're interested in local connections, Meetup is perfect. Attend or organize events related to your niche to meet fellow influencers and enthusiasts in person.
Niche-focused Subscriptions (e.g., Substack): Platforms like Substack allow you to curate subscription-based content for your followers. Offer exclusive insights, stories, and tips to your dedicated audience.
Clubhouse Rooms: Clubhouse offers live audio discussions. Participate in or host rooms within your niche to connect with an engaged audience and showcase your expertise.
Industry-specific Online Communities: Many industries have their own dedicated online platforms. For instance, designers can join Behance, photographers can engage on 500px, and writers can connect on platforms like Wattpad.
When joining these communities, remember that engagement is key. Actively contribute, share your knowledge, and respect the rules and etiquette of each platform. Building a genuine presence and fostering meaningful connections will not only enhance your influence but also open up opportunities for collaboration, networking, and personal growth. Embrace the power of these communities to strengthen your voice and expand your reach in the digital landscape.